Thank you for visiting my website.
A LITTLE BIT ABOUT THE AUTHOR
Hi, I'm Judy Allen Dodson
The best part about writing for young people is that I get to take them on journeys that will positively impact their lives forever. From history to the fantastical, we'll explore new adventurous worlds together.
I can't explain how it is I keep having new ideas. But one book inevitably follows another. It is my way of exploring the known, the remembered, and the imagined, the literary triad of which all stories are made.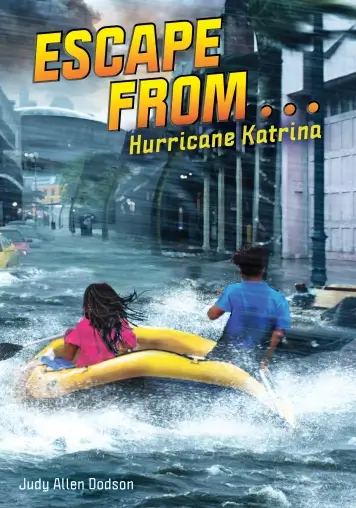 Escape from Hurricane Katrina
For twins Jo Jo and Sophie Dupre, Hurricane Katrina isn't the most important thing on their minds—not compared to their mother's cancer treatments, Sophie's swim meet, and Jo Jo's upcoming coding competition.
But when the deadly storm intensifies, Mom is the only one they can evacuate. The twins and their father are stuck at home in the Lower Ninth Ward of New Orleans . . . and the storm is coming. The winds rise—and with them, the waves. The levees break and floodwater rages through the city. During the chaos, Jo Jo and Sophie are swept away. Together, they must find their way to the Superdome, where their father should be waiting—but can they escape the wrath of one of the deadliest storms in history?
These words are great in a hypothetical context. But applied to real life? Not so much. At least not so much in my real life. Because I'm writing a memoir. And it's something I've spent a long time on and something I'm really happy with and really proud of, and something someone who's work and writing I so admire also really likes. Really likes. But apparently my manuscript isn't good enough, because it isn't long enough.
Convention dictates the appropriate length of a memoir. Regardless of how many words are required to tell the story, regardless of word economy, my manuscript is too short. I have not taken enough of the reader's time. I have been too economical with my word choices.
I must add without inflating. I must add without confabulating. I must, because I've come to far to quit.
And I must achieve this without the benefit of diet Coke, because I kicked my 3-Big-Gulp-a-day habit almost a year ago.
Subscribe to Blog via Email
Enter your email address to subscribe to this blog and receive notifications of new posts by email.
I'd love to hear from you, whether you have a question, a comment, or just something on your mind.